The President of India, Smt Droupadi Murmu presented the Sangeet Natak Akademi's Fellowships (Akademi Ratna) and Sangeet Natak Akademi Awards (Akademi Puruskar) for the year 2019, 2020 and 2021 in New Delhi on February 23, 2023.
Shri G. Kishan Reddy, Minister of Culture, Tourism and DoNER, Shri Arjun Ram Meghwal, Minister of state for Parliamentary Affairs & Culture, Dr. Sandhya Purecha, Chairman, Sangeet Natak Akademi, Smt. Uma Nadnuri, Joint Secretary, Ministry of Culture was also present in the awards ceremony. 
Eight eminent personalities were given Sangeet Natak Akademi Fellowships in the field of performing arts while 128 artists from the field of music, dance, theatre, traditional, folk and puppetry were awarded with Sangeet Natak Akademi Awards.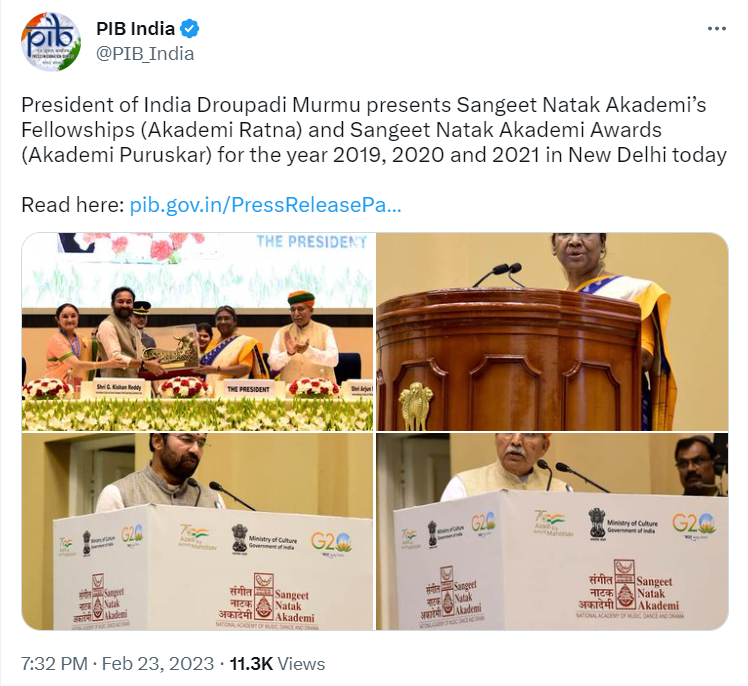 The President said that in our tradition, art is a spiritual practice, a medium of the search for truth, a medium of prayer and worship, a medium of public welfare. Collective exuberance and unity also find expression through dance and music. Art binds the linguistic diversity and regional characteristics in one thread.

The President said that we should take pride in the fact that the oldest and best definitions and traditions of art have developed in our country. Our cultural values have become more useful in the modern era. In today's time which is full of tension and conflict, Indian arts can spread peace and harmony. Indian arts are also the best example of India's soft power.

The President said that just as nature's gifts like air and water do not recognize human limitations, the art forms are also above language and geographical boundaries. The music of M. S. Subbulakshmi, Pandit Ravi Shankar, Ustad Bismillah Khan, Lata Mangeshkar, Pandit Bhimsen Joshi and Bhupen Hazarika are unhindered by language or geography. With their immortal music, they have left an invaluable legacy for music lovers not only in India but all over the world.

Shri G Kishan Reddy, Union Minister of Culture, Tourism and DoNER said that he was pleased that Sangeet Natak Akademi is involved in protection and promotion of several art forms in all parts of the country. He said that the country is proud of the talent that is present with the youth artists of the country.
The Akademi's fellowship (Akademi Ratna) carries a purse money of Rs. 3,00,000/- (Rupees Three Lakhs only) and Akademi Awards (Akademi Puraskar) carry a purse money of Rs. 1,00,000 (Rupees One Lakh only). The award also carries a Tamrapatra and Angavastram.
Y. Gee. Mahendra won the award for best acting,  Besides Makeup artist Ramkrishna received Sangeet Natak Akademi Award from President Murmu for makeup in theatre.
Five eminent artists from Odisha were awarded the Sangeet Natak Akademi Award 2020 and 2021.
Odissi dancer Rabindra Atibudhi and Chhau dancer Trilochan Mohanta received the award for the year 2020.
Similarly for 2021, singer Susmita Das was awarded for Sugam Sangeet while Bijay Kumar Jena got the award for dance and Manoj Pattnaik for theatre direction. The Akademi also honoured 86 artistes with special one-time awards commemorating 75 years of India's Independence.
Source: PIB,  TheHindu,  NewsonAir
आपको हमारी ये "Post" कैसी लगी? कमेंट में अपनी प्रतिक्रिया जरूर दें!