Prime Minister Narendra Modi inaugurated 'Aadi Mahotsav', the mega National Tribal Festival today (February 16), at Major Dhyan Chand National Stadium in Delhi.
This year, it is being organised from February 16 to 27. Ministers of State for Tribal Affairs, Ms Renuka Saruta was also present on the occasion.
"21st century's India is walking on the mantra of 'Sabka Saath, Sabka Vikas'. Now, the Government goes from Delhi to meet that which was considered far away. That which considered itself far away is now being brought to mainstream," PM Modi at the mega National Tribal Festival. 

"In the last 8-9 years, events like Aadi Mahotsav that are connected to the tribal community have become a campaign for the country. I myself have become a part of several such programmes. The tribal community's welfare is also a matter of personal relations and sentiments for me," PM added.
The present edition of the flagship event of TRIFED has the theme of "A Celebration of the Spirit of Tribal Crafts, Culture, Cuisine and Commerce", which represents the basic ethos of tribal life.
The festival, will feature exhibition-cum-sale of tribal handicrafts, handloom, paintings, jewellery, cane & bamboo, pottery, food & natural products, gifts & assortment, tribal cuisine and much more through 200 stalls to showcase this. 

More than 1000 tribal artisans and artists from 28 States/UTs will be participating in the festival. 

This includes tribal cooks from 19 States/UTs for which 20 food stalls are being set up. Millets have been an integral part of the diet of tribal communities. Further, the United Nations, at the behest of the Government of India, has declared 2023 the International Year Millets. To commemorate this and create awareness and increase production & consumption of tribal millets, tribal artisans from across the country are invited to display & sell millet (Shree Anna) products and cuisines.

An exclusive pavilion for the sale and display of Van Dhan products is proposed to be put up. 

About 39 Van Dhan Vikas Kendras from 17 States/UTs are expected to participate in this Mahotsav.
The tribal festival is organised annually by the Tribal Cooperative Marketing Development Federation Limited under the Ministry of Tribal Affairs. It was first held in 2015 and titled "VANAJ".

TRIFED, an organisation of the Ministry of Tribal Affairs, has been organising Aadi Mahotsav – National Tribal Festival to provide direct market access to the tribal master-craftsmen and women in large metros and state capitals.
Purpose of Aadi Mahotsav 2023:
The programme will showcase the rich and diverse heritage of tribes from across the country in over 200 stalls at the venue.
The concept of organising Aadi Mahotsav in major cities has proved to be a boon for tribal artisans by eliminating the middleman and providing direct access to large markets.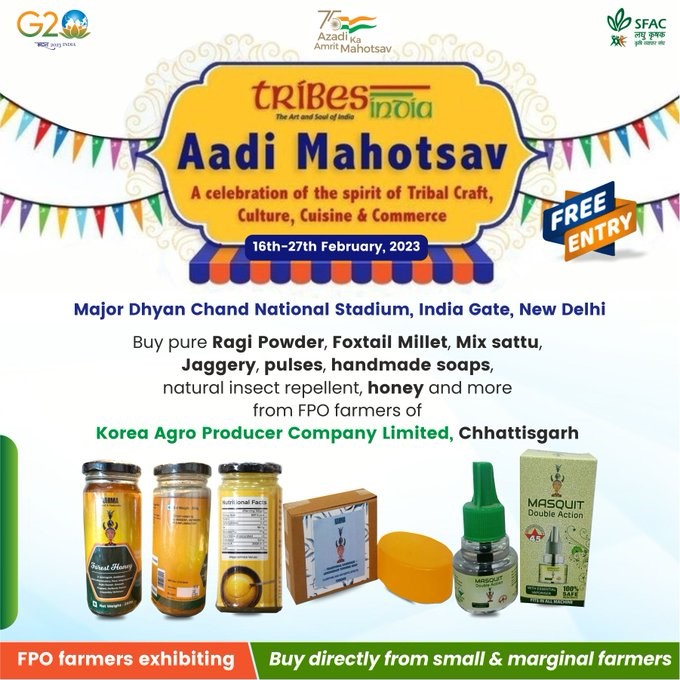 Source: PIB, CNBC TV18, IndiaTV
आपको हमारी ये "Post" कैसी लगी? कमेंट में अपनी प्रतिक्रिया जरूर दें!