Neal Mohan, an Indian-American, is set to become the next chief executive officer (CEO) of YouTube, replacing Susan Wojcicki who on Thursday (16 FEB 2023) announced that she is stepping down from her role.
Susan Wojcicki spent nine years as the head of the global online video-sharing and social media platform.
Wojcicki, 54, said in her blog post that she will focus on "family, health, and personal projects I'm passionate about." Wojcicki, who was previously a senior vice president for ad products at Google, became CEO of YouTube in 2014.
"Today, after nearly 25 years here, I've decided to step back from my role as the head of YouTube," Wojcicki wrote in an email to YouTube employees.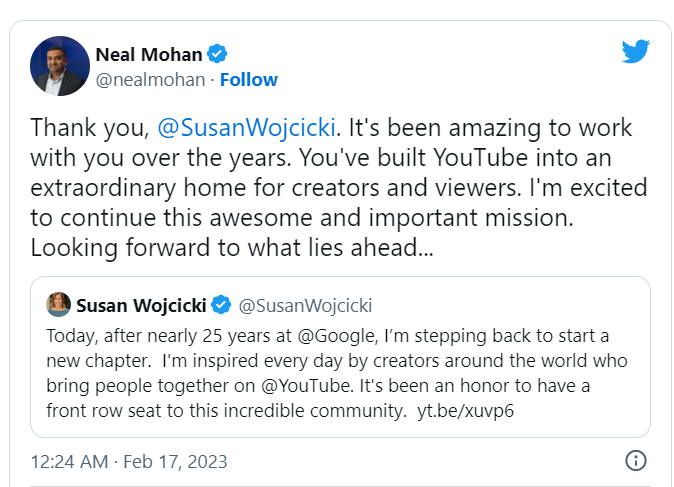 The change of guard comes as YouTube's advertising revenue fell for the second straight quarter amid intense competition for viewing time with short-form video services such as TikTok and Facebook's Reels, and streaming services like Netflix.
Mohan is a graduate of Stanford University in 1996.

He joined Google in 2008.

He became YouTube's Chief Product Officer in 2015.

He had set up a top-notch product and UX team, played pivotal roles in the launch of some of our biggest products, including YouTube TV, YouTube Music and Premium and Shorts.

Mohan has also worked with Microsoft and sits on the board of Stitch Fix and genomics and biotechnology company 23andMe.

He previously spent nearly six years at DoubleClick, a company Google acquired in 2007, and later served for about eight years as senior vice president of display and video advertising at Google.
Source: Hindustan times, Times of India
आपको हमारी ये "Post" कैसी लगी? कमेंट में अपनी प्रतिक्रिया जरूर दें!