The 2023 edition of Indian Navy's major maritime exercise TROPEX, is currently underway in the Indian Ocean Region.
The Indian Navy has initiated a major maritime exercise called TROPEX-23 in the Indian Ocean Region (IOR). The theatre-level biennial exercise will go on from January to March 2023. 
 
Exercise TROPEX-23 will involve participation of the Indian Navy, the Indian Air Force and the Indian Army, as well as assets from the Indian Coast Guard.
 
The exercise is being conducted in different phases, both in harbour and at sea, encompassing various facets of combat operations, including live weapon firings.
 
Over the years, the Navy's exercise TROPEX has grown in scope and complexity. The mega maritime exercise serves as an opportunity to test the combat preparedness of the combined fleets of the Indian Navy to operate in a challenging multi-threat environment. Operational level engagement with the Indian Army, Indian Air Force, and Coast Guard possible during the marine exercise allows to strengthen interoperability and joint operations capabilities in a challenging environment.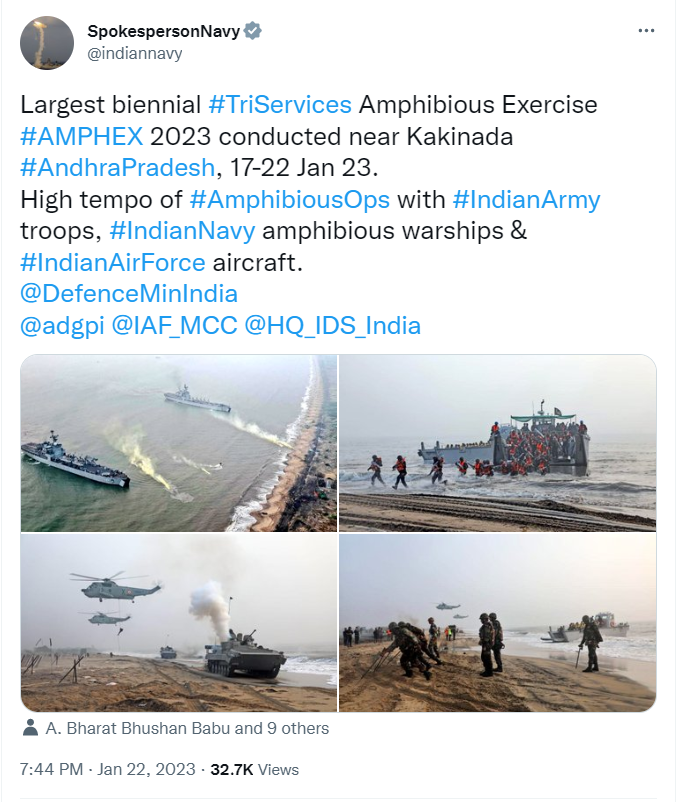 Aimed at joint training of elements of the tri-services in various facets of amphibious operations, Exercise APMPHEX under the TROPEX exercise enhances interoperability and synergy of the Indian Armed Forces. The 2023 edition of Exercise AMPHEX was conducted at Andhra Pradesh's Kakinada from January 17 to January 22.
History
Exercise TROPEX was first introduced in 2005 and was held on an annual basis up until 2015. After 2015, the mandate of Ex TROPEX's conduct was changed to a biennial basis with it being conducted in 2017, 2019 and 2021. Dubbed Indian Navy's largest wargame, Exercise TROPEX includes various drills and exercises like Exercise SEA VIGIL and AMPHEX.
According to the Ministry of Defence, Exercise TROPEX incorporates all surface combatants of the Indian Navy, including Frigates, Corvettes, Destroyers, as well as submarines and aircraft. 
These assets undergo a series of complex maritime operational deployments aimed to refine and validate the Indian Navy's concept of operations. Special focus is laid on enhancing the aspect of operational logistics and interoperability with other services of the Indian Armed Forces.
Source : PIB, Republic TV
आपको हमारी ये "Post" कैसी लगी? कमेंट में अपनी प्रतिक्रिया जरूर दें!