Prime Minister Narendra Modi has been pegged as the world's most popular leader with an approval rating of 78 percent .
 
PM Narendra Modi has been pegged as the world's most popular leader with an approval rating of 78 per cent as per a survey by a US-based consulting firm 'Morning Consult.'
 
As per the rating, PM Modi's ratings trump those of other leaders including US President Joe Biden, French President Emmanuel Macron and UK Prime Minister Rishi Sunak. 
 
Out of the 22 leaders surveyed by the research firm, Prime Minister Narendra Modi tops the list with 78 per cent, followed by Mexican President Andrés Manuel López Obrador with 68 per cent and Swiss President Alain Berset occupying the third position with 62 per cent approval rating.
 
Around 18 per cent of the people in India disagree with the fact that PM Modi is the world's most popular leader, according to the survey.
 
US President Joe Biden and Canada's Justin Trudeau received an approval rating of 40 per cent each and secured the seventh and ninth position respectively while UK Prime Minister Rishi Sunak received a 30 per cent approval rating, securing the 13th spot in the list.
Rating of Prime Minister Narendra Modi :
Prime Minister Modi's approval rating touched a high of 84 per cent on May 2, 2020. His approval rating was at the lowest on May 7, 2021, with 63 per cent when the second wave of Covid-19 was at its peak in the country.
"The latest approval ratings are based on data collected from January 26-31, 2023. Ratings are based on a seven-day moving average of adult residents in each country, with sample sizes varying by country," said the official website.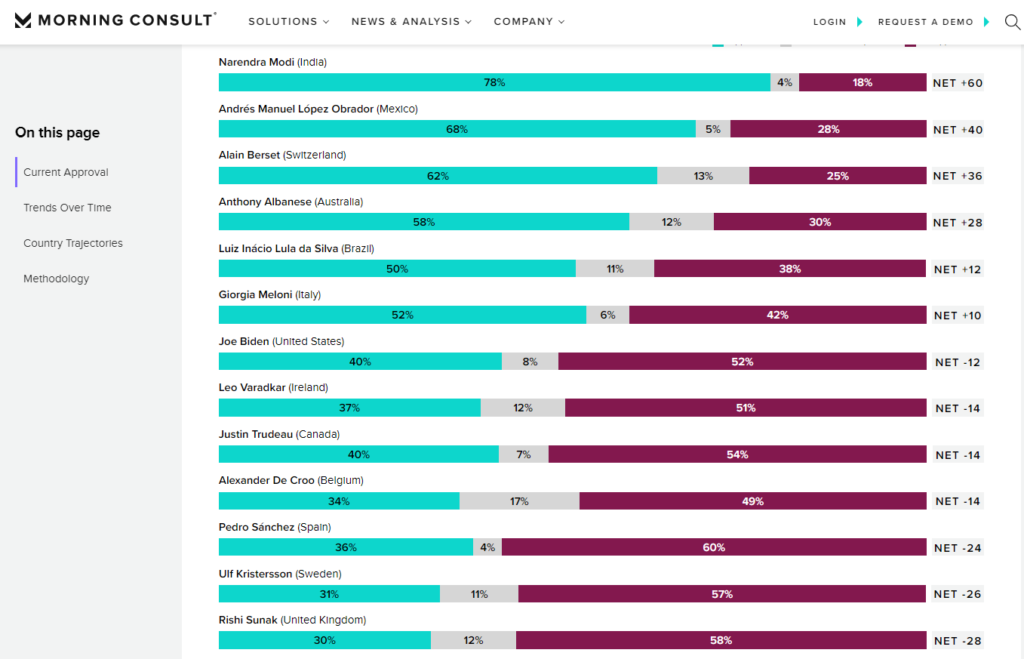 " Morning Consult "
Morning Consult is a business intelligence company established in 2014. It was named one of the fastest growing technology companies in North America by Deloitte in both 2018 and 2019 and was valued at more than one billion dollars in June 2021. 
Currently tracking the approval ratings of government leaders and country trajectories in Australia, Austria, Belgium, Brazil, Canada, Czech Republic, France, Germany, India, Ireland, Italy, Japan, Mexico, Netherlands, Norway, Poland, South Korea, Spain, Sweden, Switzerland, the United Kingdom and the United States. 
They updated weekly with the latest data for all 22 countries, offering real-time insight into the shifting political dynamics across the globe.
How They Generate Rating Survey?
Political Intelligence is a proprietary platform of Morning Consult and provides real-time polling data on political elections, elected officials and voting issues. Morning Consult conducts more than 20,000 global interviews daily.
 
The global leader and country trajectory data is based on a seven-day moving average of all adults in a given country, with a margin of error of between +/- 1-4%. In the United States, the average sample size is around 45,000. In the other countries, the sample size ranges from roughly 500-5,000. 
 
All interviews are conducted online among nationally representative samples of adults. In India, the sample is representative of the literate population.
 
Surveys are weighted in each country by age, gender, region and, in certain countries, education breakdowns based on official government sources. In the United States, surveys are also weighted by race and ethnicity. Respondents complete these surveys in languages appropriate for their countries.
 
Professional translation companies in each country conduct the translation and localization for each survey.
 
Source : Morning Consult, NDTV, Hindustan times, India Today
आपको हमारी ये "Post" कैसी लगी? कमेंट में अपनी प्रतिक्रिया जरूर दें!